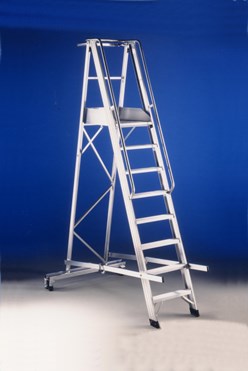 * The above prices do not include VAT
Heavy duty aluminum folding ladder type with platform and garden protector. Each step is securely welded to the frame. It is particularly suitable for use in warehouses, high access points, airports, gyms and other areas where safe use and a high level of access is required.
With wide steps of 100 cm and a garden protector with an aluminium working platform of size 53×67 cm makes the ladder comfortable and safe.
Contains full-folding membranes for compact thickness in transit.
Manufactured in accordance with the European Union standard EN131.
TECHNICAL CHARACTERISTICS
• Frame profile 100×30 mm
• Platform with a capacity of 150 kg
• Height of sub-podium 15 CM
 • Platform dimensions 53×67 cm
• Front width 60 cm
• Side rails: 1 metre high
• Distance between steps 24 cm
 • Non-slip steps 10 cm deep
 • Sliding wheels Ø 125 mm
• Number of stairs: 4 -15 stairs
 • Platform: From 1.00 m to 3.90 m high
• Tool-box with a capacity of 15 kg
• Joints in the frame where the staging under the steps is supported
• Ergonomically reinforced non-slip rubber feet
• Labels and instructions for assembly and use
• Heat shrinkable plastic packaging 
 • Short stabilizer (75 cm long) for use in narrow corridors
• Castellana 4WD: kit 4 locked swivel wheels Ø 80 mm