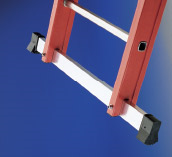 3-leg Fiberglass V3 ladder with aluminium steps
* The above prices do not include VAT
Professional fiberglass ladder with Three-section V3, suitable for those who work next to cables, sockets or other electrical power sources. The ladder is equipped with a stabilizer base and wheels on the upper part for a smoother flow on the wall.
When used as a ladder, the third section is only used as a guardrail. The fiberglass ladders provide electrical insulation, but are lightweight and easy to manage thanks to the non-slip and serrated aluminum steps where it lowers the weight
Technical characteristics:
• Distance between the steps 28cm
• The stair dimension 27×27 mm
• Maximum load 150 kg
• Number of steps: 8-14
• First section of stairs width 49 cm
• Second section of stairs width 42 cm
• Third section of stairs width 36 cm
• Strap to prevent uncontrolled opening of the stairs
• Sliding wheels for wall
• Non-slip rubber feet
• Test 100.00 volts
• Instructions for the assembly of each ladder will be found in the package
Alternatively and on request it is also available with a rope and of course it is only used on the wall.