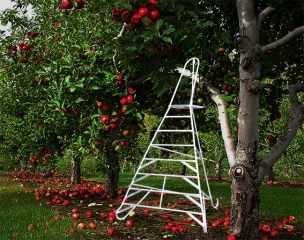 Aluminium Ladder Horticulture Ladder
* The above prices do not include VAT
The scaffolding for fruit picking is constructed to facilitate the working process. Keeping in mind the easy mobility in the garden, transport and storage, high safety, you will find scaffolds that make fruit picking and tree pruning easier.
The special design ensures easy access to the fruit trees,with our main concern, the non-slip platform and non-slip steps allowing safe working
Construction, design:
Material: Tube, aluminium alloy, anti-slip surface plates,
By welding joints
We offer you three different sizes that are useful in your garden or in your field
Platform dimension : 495 x 410 mm.For all stairs.
Plate height   width x depth x h-closed Stairs Weight
1200mm          1265 x 1390 x 2105              4           10,1
1650mm          1590 x 1700 x 2555              6           13,3
2000mm         1840 x 1940 x 2905               7           16,3
Permissible load: max. 100 kg
With this product, work on a 4m high tree can be easily achieved, comfortably and safely.